Presented in three 60-min webinars
Fridays 12:00 EST

Part 2 on September 21, & Part 3 on October 5
3.0 HRCI units
$325 per person, Call for workplace team rates
Gary Namie, PhD

Teresa A. Daniel
JD, PhD
Who Should Attend
Human resource managers and risk management professionals who want to increase their knowledge about workplace bullying, current law, and its causes , costs and consequences; to explore best practices that will help to increase employee engagement, build trust, appropriately respond to a bully and create a culture of respect while decreasing the potential for counterproductive workplace behaviors; and to understand why competent professionals are often targeted for bullying by management and how the HR role might generate conflict. The series is also suitable for other professionals with a sincere interest in learning about the topic.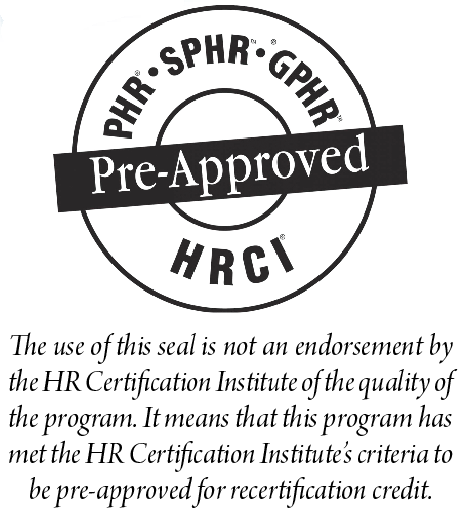 What Individual Paid Registrants Get
• 3.0 HRCI Units
• In depth instruction from the North American experts
• Pragmatic tips on policy & procedures by veteran consultants
• Tools to investigate and respond to complaints
• Equip managers to increase employee trust & engagement
• Coverage of current legal protections and proposed legislation
• Recognize HR role conflict for optimal effectiveness
• Convenient lunch-time training with no travel costs!

What You Need to Know about Workplace Bullying and Why It's Important

Identifies bullying behaviors, the forms of bullying, the reasons these types of abusive behavior occur within organizations, the impact of bullying—how it affects the health, family life, and productivity of your employees—as well as the costs and consequences to your workplace. We end with current legal protections and proposed anti-bullying legislation, leaving ample time to answer your questions.
Strategies for Creating a Culture of Respect; Bullies Are Not Welcome Here

Introduces a novel approach to HR analytics to show the bottom-line losses from bullying. The session also helps you equip managers and supervisors with strategies to increase employee trust and engagement. We cover policy and procedure creation to hold workplace bullies accountable for their behavior.
HR in the Crossfire: When Bullying Impacts HR Professionals

Dr. Daniel studied the prevalence of workplace bullying among HR professionals. We will discuss the study results, how being an HR professional may generate role conflict, and also explore strategies that seem to make the most positive difference when responding to a bully.

Presented in three 60-min webinars
Fridays 12:00 EST - September 7, 21, & October 5
3.0 HRCI units
$325